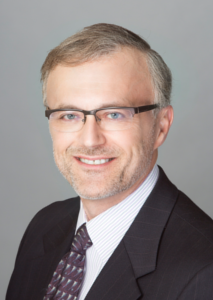 J. Michael
Tuchek,
DO, FACS
American Board of Surgery
American Board of Thoracic Surgery (Cardiothoracic and Vascular)
Medical School
Midwestern University
Residency
Loyola University Medical Center
Fellowships/Internships
Loyola University Medical Center
Practice Locations
Societies & Affiliations
Fellow, American College of Surgeons
Society of Vascular Surgeons
International Society of Endovascular Specialists
Society of Thoracic Surgeons
International Society for Minimally Invasive Cardiac Surgery
Special Surgical Interests
Transcatheter Aortic Valve Replacement (TAVR)
Thoracic and Abdominal Endovascular Stent Grafting
Minimally Invasive Heart and Lung Surgery
Heart and Lung Transplantation
Valve Repair and Replacement
Bio
After earning his undergraduate degree at Purdue University, Dr. Tuchek completed a master's degree in philosophy from the University of Illinois at Chicago then a Doctorate of Osteopathic Medicine at the Chicago Osteopathic Medical School. He interned at the Chicago Osteopathic Medical Center and completed his general surgery residency, chief surgical residency, and cardiothoracic and vascular surgery fellowship all at Loyola University Medical Center in Chicago. As a general surgery resident there, he received the prestigious Kaiser Award for outstanding contribution to surgical education.
Dr. Tuchek is a senior partner at Cardiac Surgery Associates, which is the largest practice of its kind in the United States. He is a Professor of Cardiothoracic and Vascular Surgery at Loyola University Medical Center where he directed the thoracic aortic stent graft program. Also at Loyola, he is the Surgical Director of the Structural Heart Program and the lead implanter/ principle investigator in multiple CoreValve Transcatherter Aortic Valve Replacement trials (TAVR). Dr. Tuchek continues to be actively involved in the heart and lung transplant program at Loyola despite his busy private practice at most of the major open heart programs in the western suburbs of Chicago, Northwest Indiana and Eastern Iowa.
Dr. Tuchek is recognized as one of the country's foremost experts in endovascular stent grafting of thoracic and abdominal aortic aneurysms leading one of the busiest endovascular practices in the United States. Dr. Tuchek is the principle investigator in numerous endovascular trials including the Medtronic Talent Valor 1 Thoracic Stent Graft Trial, the Medtronic Valiant Thoracic Stent Graft Trial, the Endurant Suprarenal Fixation Stent Graft Trial (where he was the leading enroller in the U.S in all 3 trials) and is one of the leading implanters of the device in the country after it was approved.
Dr. Tuchek is also actively involved in developing percutaneous valve technologies with Medtronic's cardiovascular division as one of the primary clinical consultants in percutaneous aortic valve stent design. He patented a new percutaneous aortic valve stent for treating aortic valve pathology. He is currently the lead implanter and principle investigator in various arms of several CoreValve percutaneous aortic valve replacement trials at Loyola University for the treatment of aortic stenosis. Despite his busy schedule, he is a U.S. CoreValve proctor teaching other physicians/hospital teams how to implant the CoreValve devices. Dr. Tuchek has an active cardiothoracic and vascular practice with emphasis on minimally invasive approaches for the heart, lung and vascular surgery.
Dr. Tuchek lectures internationally on topics ranging from ethics in medicine to minimally invasive heart surgery, percutaneous valve procedures, and aneurysm treatments. He also devotes some of his time teaching other physicians how to perform state-of-the-art cardiac and endovascular procedures around the United States. Dr. Tuchek is a consultant with numerous medical device companies helping to develop next generation medical devices in collaboration with other physicians and biomedical engineers.